HIRAX "The New Age of Terror" CD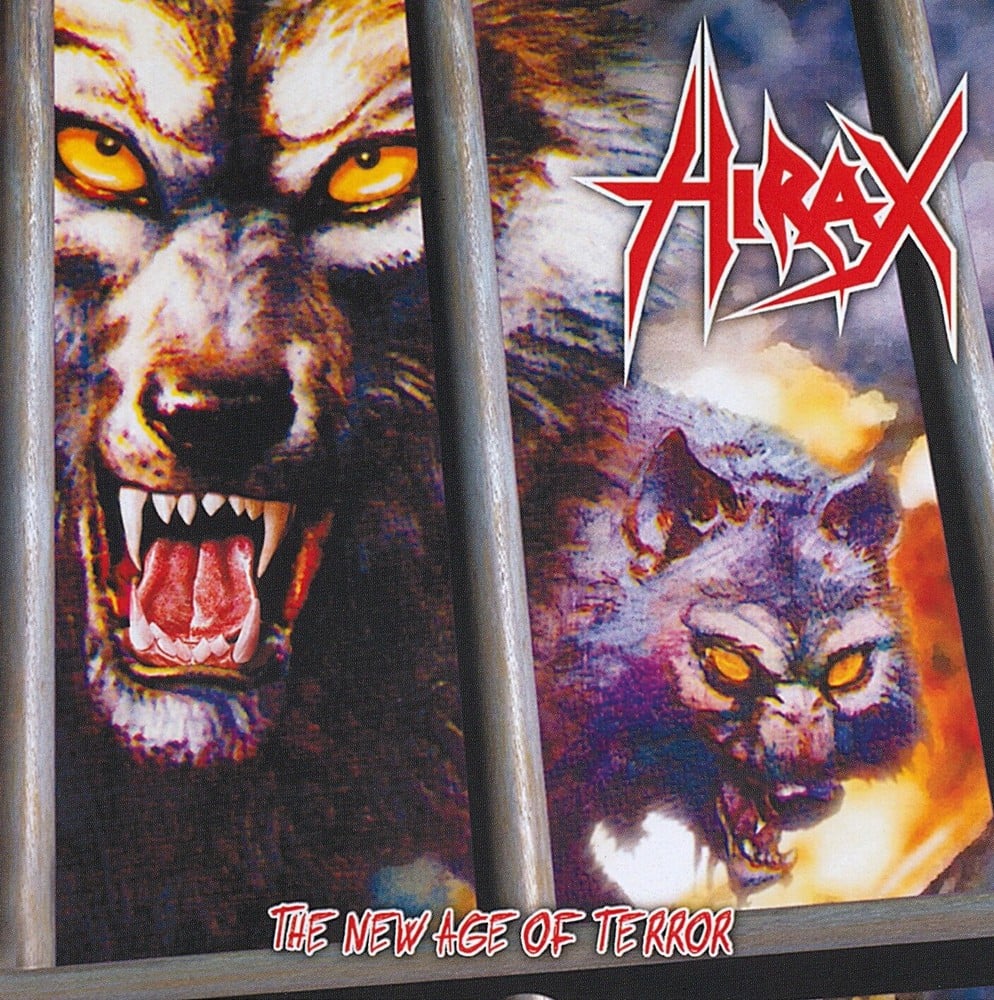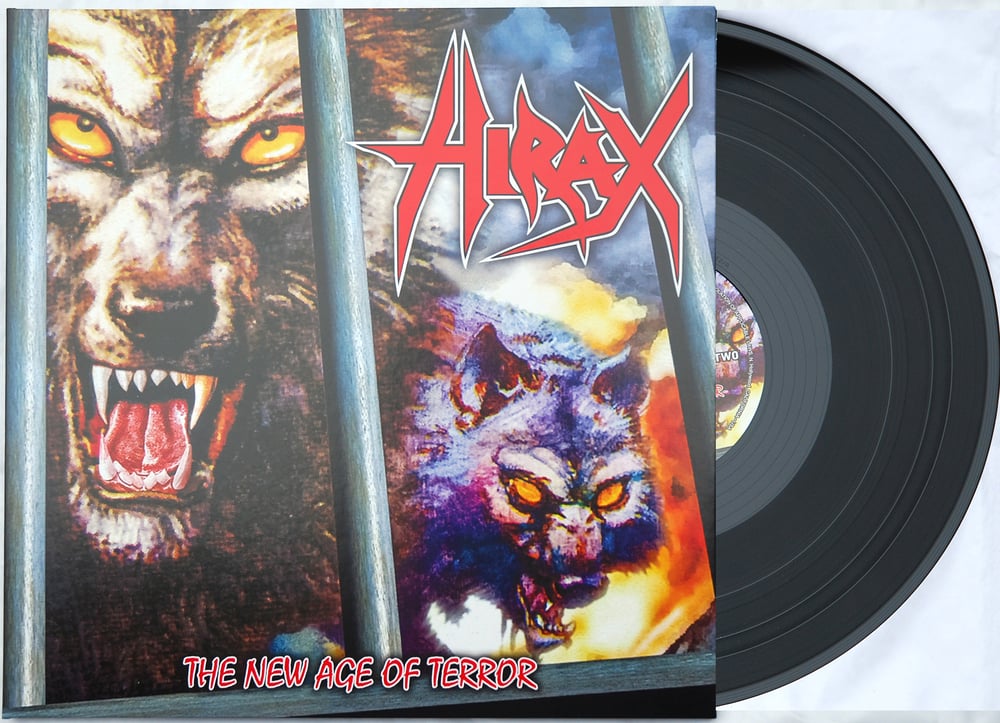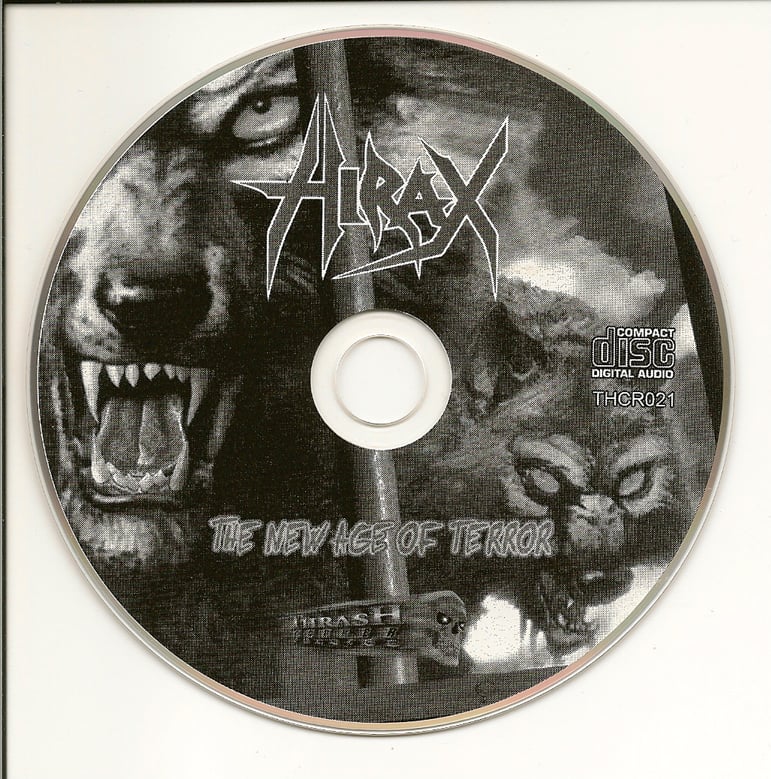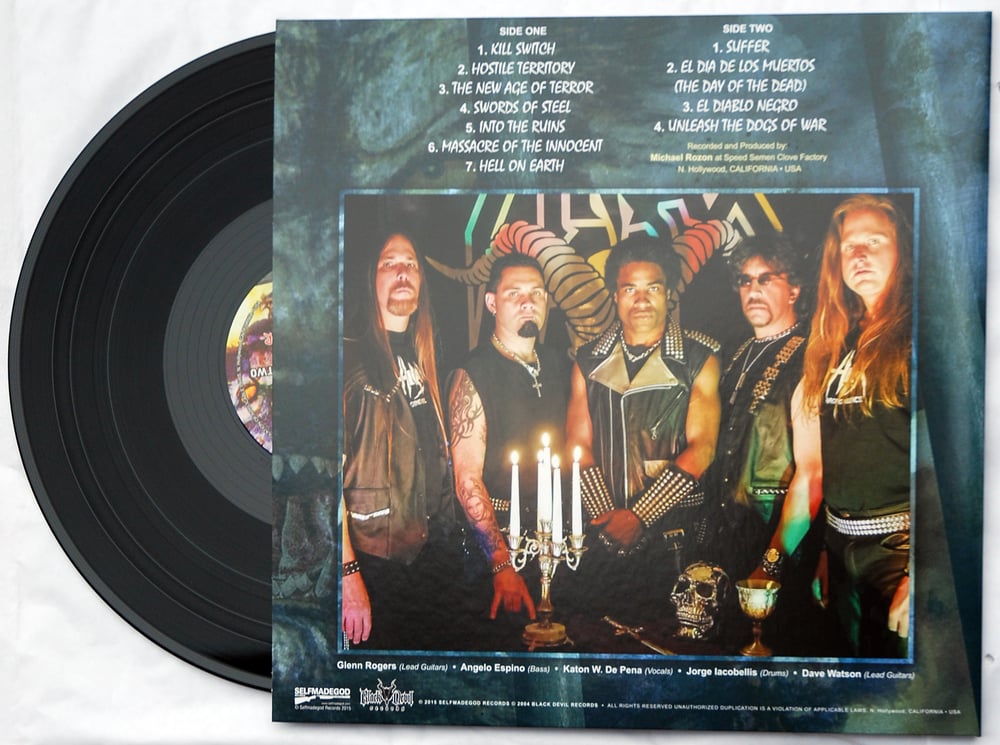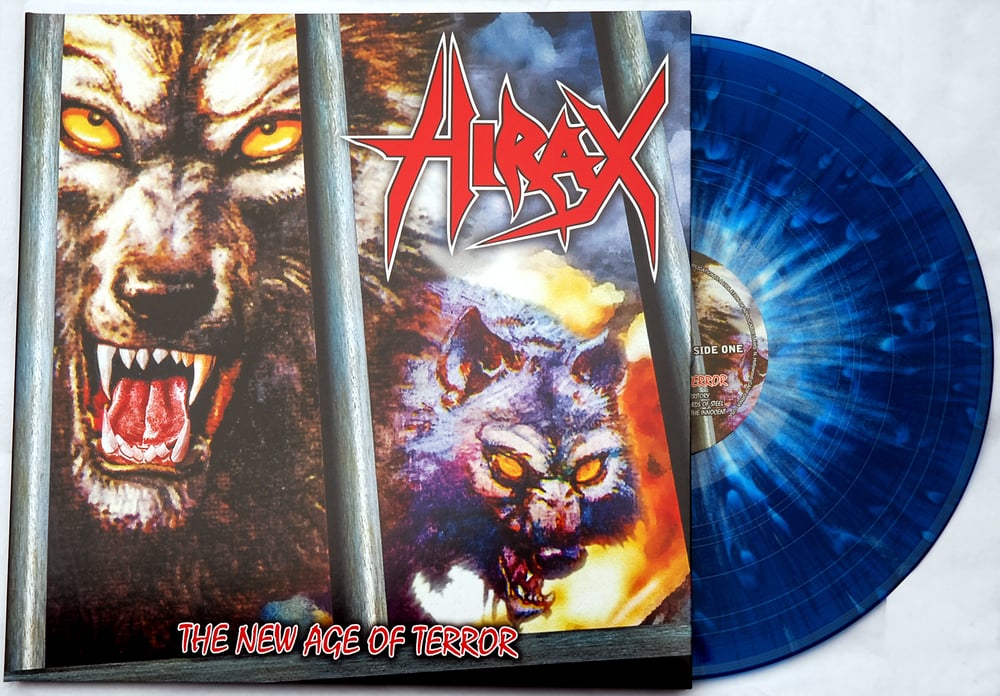 CD
HIRAX "THE NEW AGE OF TERROR" CD (2004)
SONG TITLES:
1. Kill Switch
2. Hostile Territory
3. The New Age of Terror
4. Swords of Steel
5. Into the Ruins
6. Massacre of the Innocent
7. Hell on Earth
8. Suffer
9. El Dia de los Muertos (The Day of the Dead)
10. El Diablo Negro
11. Unleash the Dogs of War (Open the Gates)

The band continues in the same vein as previous records, but with a more technical approach... as well as, adding more Crunch and Heaviness to their music!!! Always forging forward to create a Faster and Heavier style of their own!!
WAIT TILL YOU HEAR THIS NEW RECORD!! YOU WILL NOT BE DISAPPOINTED!!!
"The New Age of Terror"
REVIEWS
METAL FANATIX.com - Old school thrash is what HIRAX is all about. "The New Age of Terror" should bring you back to the eighties during the time when the Bay area thrash sound had just started to escalate. Fast, aggressive metal riffs cover the album, and should get any fan of thrash an awaking. This thrash attack has so many enticing riffs the crowd has to go insane in the mosh pits during their shows. The leads get you right into each song and if that still didn't entice your ears, there are solos that dance all over this album. If you haven't heard Katon W. De Pena sing before, he has a similar vocal style and power of Paul Baloff of Exodus. That's probably the only one even close to his style. All of this CD's elements are thrash…eleven tracks and a little bit over thirty-seven minutes worth. There are a selection of tracks that I dig, including "Swords of Steel," "Hell On Earth," the instrumental ballad "El Dia De Los Muertos (The Day of the Dead)," "El Diablo Negro," and" Unleash the Dogs of War (Open the Gates)." If you like thrash done the way it use to be, you need to listen to "The New Age of Terror."
Unchain.com (Stony Point, NEW YORK.)
I've heard about HIRAX quite a bit over the years, since I started Unchain the Underground back in 1989, but must admit that until I received a promo of The New Age of Terror a few weeks ago, I had never actually heard their music. I am fucking FLOORED. I am a thrash metal fanatic. Hands down, it is my favorite kind of music, and not this new vein of thrash. I am talking the old-school, dirty thrash metal, like RAZOR, BLOOD FEAST, DARK ANGEL, FORBIDDEN... you get the idea. HIRAX falls right in with the greats! Hell, they ARE one of the greats. The New Age of Terror is a pure, glorious, just-about perfect thrash album that sounds like it could have been written in the genre's golden era, yet does not sound dated. The songs are catchy and heavy, with a fine balance of groove and speed. Katon DePena's vocals are unique to the point of, at first listen, being a little unsettling because his sound is SO different, but after a few spins it sinks in and everything clicks. HIRAX are five guys that obviously live for this stuff, and you can hear their conviction and passion in the music. The New Age of Terror is an album I find myself wishing I was listening to at different times throughout the day. The songs are catchy to the point that I will be listening to another album and will hear something that reminds me of one of the songs off The New Age of Terror, and I will take out whatever album I have on and put this one in. It is THAT good.
HIRAX rules. Plain and simple. I pray that they tour the entire nation so I can catch them live, and that The New Age of Terror gets them the recognition they have deserved for so long, and that the interest is enough that the first two albums are re-released on CD because I need those fuckers bad and can't find them anywhere. - Al Kikuras
Rating: 9/10
THRASHER MAGAZINE – San Francisco, CA – U.S.A.
August 2004 Issue #284
Sick old school thrash is still alive and well. Katon and crew return with a new full length. Pummeling, epic-power thrash-attack only HIRAX can deliver, this thing just plain kills. Make no comparisons, but it feels like listening to the first Slayer LP for the first time.
== REVIEW BY Rickter of Doom
TERRIZOR MAGAZINE - England
#121
Mid-80s LA Thrashcore crossover legends HIRAX were the first ever release on Earache (via flexidisc), their history would take volumes to encompass, but all you need to know right now is that they're back, that this exuberant, short but not very sweet track will send you spinning, that it will leave you dishevelled and delirious, and that you need bands like this in your life.
KERRANG MAGAZINE - England
Recent comeback album s for the '80s thrash B-league (Death Angel, Venom at al) have been underwhelming, but San Fran almost-rans HIRAX have injected the power speed and aggression of 1986 into this new album. "Hostile Territory" and "El Diablo Negro" rival primera Slayer for heaviness and the old-metal influences behind song like "Swords of Steel" are pure Manowar. Truly an album to satisfy any nostalgic headbanger
==REVIEW BY Joel McIver
HEAVY METAL UNIVERSE - France
Deep from the ashes of the 80's US-thrash metal scene, HIRAX raises in 2001 with "El Diablo Negro", and 2002 with the excellent "Barrage of Noise", both released by Deep Six Records. Two years later, Katon W. de Pena (vocals) changed the whole line-up and is back again with another great thrash metal opus and a brand new label : Mausoleum Records. For those who thought the US tune of the style was dying, just lend an ear to "The New Age of Terror" and you'll see that it never felt so good. The bands which are alive today are those from guys whose blood is made of metal and whose soul has always been dedicated to thrash. All the false money makers are dead and gone, and the old demons are here again to rule the world. OVER KILL, TESTAMENT, EXODUS and now HIRAX are among the most important. Eleven tracks of the best possible thrash, powerful and straight to the point, with great and fast guitar leads, not far from EXODUS' music, and probably the best thrash record of the year with EXODUS "Tempo of the damned". Killer !
==REVIEW BY Séb
KEEPER MAGAZINE – Temecula, California, U.S.A.
Issue #12
I recently received an advance copy of the new HIRAX disc, "The New Age of Terror" and the boys are back! HIRAX rips into their classic style of Speed/Thrash Metal from the start and don't let up. You can still feel the album twenty minutes after it's' over. HIRAX has been terrorizing the world for a long time and now with "The New Age of Terror" show no signs of slowing down. If you are looking for Metal the way it was meant to be played, look no further.
==10/10 - REVIEW BY KEVIN
WEST SIDE DAVE – New York, U.S.A.
With their instruments set on "KILL", HIRAX ushers in "The New Age Of Terror", the Bay Area legends first full length release in years! Still present is all the fire and fury of 2002`s "Barrage Of Noise" EP, but it`s SLIGHTLY tempered on this album with more complex arrangements, as well as better production [hard to believe this was recorded in just over 12 days! Sounds 10 TIMES better than Selloutica`s "St. Wanker"....].There`s a bit more subtlety, as well; different shades of heaviness, if you will. It all comes together to make the most LETHAL Metal album of 2004 so far! In the eye of this hurricane is Katon W. Depena, Thrash Metal` most unique vocalist, Glenn Rogers and Dave Watson on lead guitar, Angelo Espino on bass and Jorge Iacobellis on drums. From the opening track, "Killswitch" right on through to the final holocaust of "Unleash the Dogs of War (Open the Gates]", HIRAX crushes the competition with their own brand of timeless Metallic mayhem! And don`t even bother to ask me for the standout tracks; each of the 11 cuts here are keepers! Unlike many of their peers, reforming to cash in on long-past glories, HIRAX CARES about what they do! Far from being a reckless noise-fest, much thought and care was put into this album. Katon can STILL sing the other Thrash growlers into the cornfield, and the rest of the band back up the well organized chaos with solid musicianship. [remember THAT word?] This is the kinda stuff that Slayer USED to be good at! Haven't heard the new Exodus as of this writing, but it's gonna have to be very, very, VERY good to even come CLOSE to what HIRAX have done with this album! "The New Age Of Terror" has indeed begun; embrace it! Thumbs and horns waaaaayyyy up! A MUST HAVE!! [Thanks to Katon for the advance copy! THRASH `TIL DEATH!!!!!!
== REVIEW BY West Side Dave
UP THE METAL HAMMERS!!!!
$10 each
shipping:
USA - $5
INTERNATIONAL - $13
http://www.hirax.org